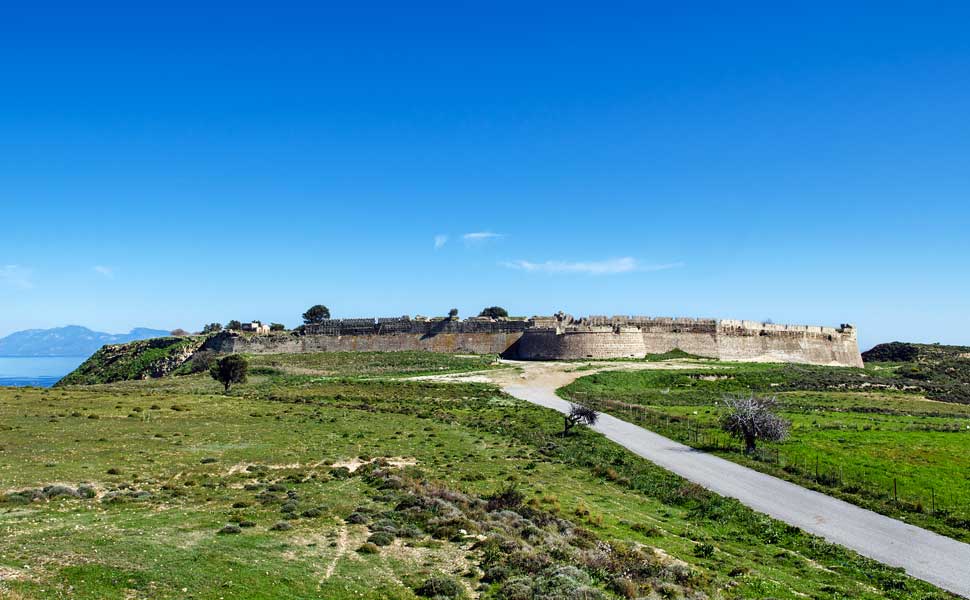 About castle of Antimachia
A castle-fortress enclosing an entire settlement, Antimachia Castle "controlled" passage between the islands of Kos and Nisyros, one of the period's most frequented trade route channels. The buildings found within the castle walls and the sheer size of the construction itself attest to the fact that this was no ordinary castle, but in fact a well-fortified settlement that withstood attacks as well as the test of time.
Extending over 26,250 square meters and with 970 meter-long walls, the castle was constructed in six different phases by Grand Masters of the Order of the Knights of St. John H. de Villeneuve (1319-1346), P. d' Aubusson (1476-1503) and F. del Carretto (1513-1521), and then during the Ottoman occupation between the 16th and 19th centuries. In addition to the coat of arms of Grand Master P. d' Aubusson and that of the Order of the Knights of St. John, one can see the preserved churches of Agia Paraskevi and Agios Nikolaos within the castle.
The main "mission" of Antimachia Castle was the protection not only of its inhabitants but of neighboring settlements as well, including those of Neratzia, the island's first capital city. However, over the course of its history, the castle was also used as a place of imprisonment for knights of the Order who were found guilty of transgressions of duty or abuse of power.
A highlight in the castle's history is the courageous resistance displayed during the Ottoman siege of 1457 when 25,000 besieged inhabitants were saved within its walls, and the Ottomans were forced to withdraw, but not before scorching the island in retaliation. The devastating earthquake of 1493 leveled the castle, which was subsequently restored and possibly even expanded by the Knights of St. John.
Map information of Antimachia castle – Kos Island