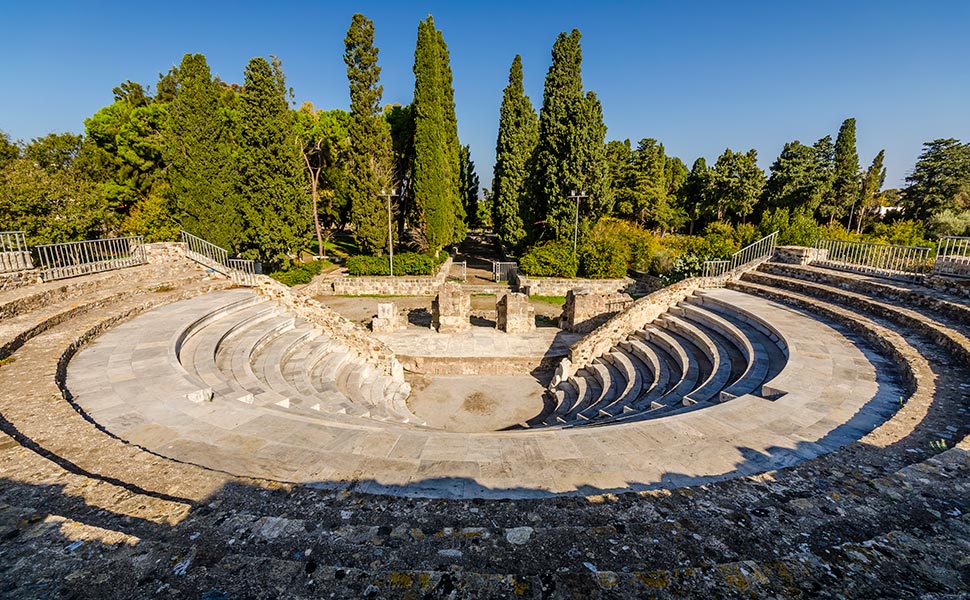 About Roman Odeon of Kos
One of the most important historical sites on Kos, the Roman Odeon of kos was probably built on the remains of an earlier building used for gatherings. The restored Odeon, with a capacity of 750, was built between the 1st and 2nd centuries AD for musical competitions as well as serving as the seat of the Senate–the city's public body that did not however have executive powers–for various honorary ceremonies and events.
This elaborate architectural work boasted a prominent stage in the shape of a pentagon which was made up of the proscenium and backstage area, with a circular orchestra and flooring decorated in marble mosaic tile. Marble statuary graced niches in the Odeon's internal porticoes, one of which contains a statue of Hippocrates.
The Roman Odeon of Kos was brought to light following excavation headed by the Italian archaeologist Laurenzi in 1929, while its reconstruction was carried out immediately by the Italian archaeological team.
Further reconstruction was carried out by Greek archaeologists between 1994 and 1999. The Roman Odeon today hosts a variety of cultural events organized mainly by local island organizations.
Map Information of Roman Odeon – Kos Island