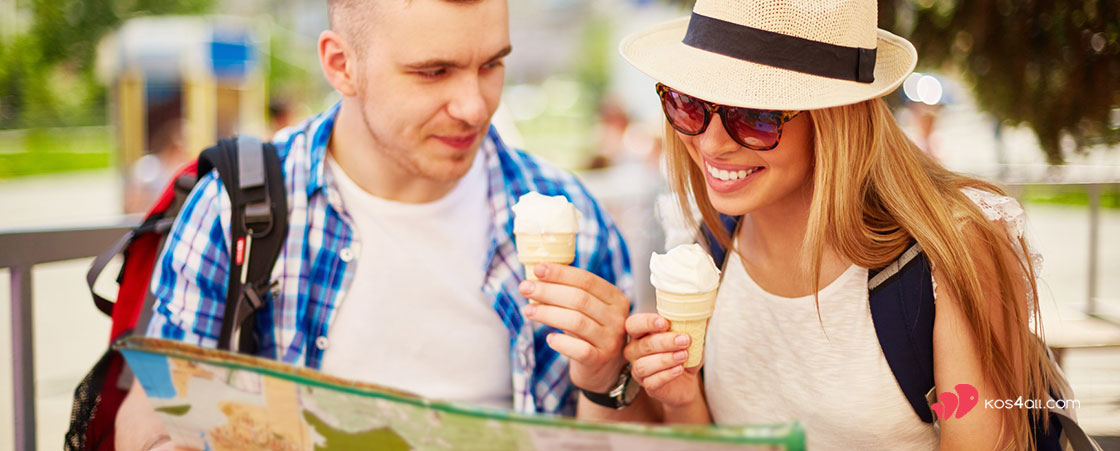 Practical – Kos tourist information
Here you can find all those details that put your mind at rest before traveling, as well as info you may need while you're in Kos.
Voltage/Electricity
The electric current used in Greece is 230V, alternating at 50hz cycles. If your appliances and devices have another voltage, frequency or plug, you will need to have adaptors and/or converters.
What to Be Careful Of
During the summer months, mosquitoes can at times be bothersome. However, although irritating, there are no real health dangers from mosquito bites as there are no instances of malaria in Greece. These pesky insects can be dealt with effectively in a number of ways, including mosquito repellent devices that tablets or liquid repellent is emitted from as well as insect repellent creams and sprays. Insect repellent devices and topical creams can be purchased almost anywhere on Kos, including in supermarkets, mini-markets, pharmacies and even in many souvenir shops.
Local Currency – Banks
Greece has been part of the eurozone since 2000, and the national currency is the Euro (€).
Euros come in both coins and notes in the amounts of:
• Coins: 1, 2, 5, 10, 20, 50 cents and 1, 2€
• Notes: 5, 10, 20, 50, 100, 200, 500€
There are numerous bank branches in the city of Kos, as well as dozens of 24-hour ΑΤΜs.
Banks are open to the public Monday to Thursday: 8:00 am to 14:30 pm, and Friday: 8:00 am to 13:00 pm.
Banks are closed on weekends and holidays.
National and Bank Holidays
• March 7: the unification of the Dodecanese Islands with the rest of Greece took place on March 7, 1958, and special celebrations to mark the event are held every year on that date. It is a bank holiday for all islands in the Dodecanese group.
• January 1: New Year's Day
• January 6: Feast of the Epiphany. During the festivities, there is a ceremony consecrating the sea, where a priest throws a cross into the water and the faithful dive in to retrieve it. The lucky diver to the surface holding the cross is considered blessed for the entire year.
• Clean Monday (Monday of Lent) A movable feast, 48 days before Easter Sunday.
• ΜMarch 5: National holiday marking the start of the Greek War of Independence from the Ottoman Empire in 1821
• Easter Sunday: Movable feast
• May 1: Labor Day
• August 15: Feast of the Assumption
• The Feast of the Holy Spirit: Movable feast dependent on the date that Easter Sunday falls on in any given year, and is calculated exactly 50 days after Easter Sunday.
• October 28: National holiday marking Greece's entry into World War II
• December 25 and 26: Christmas